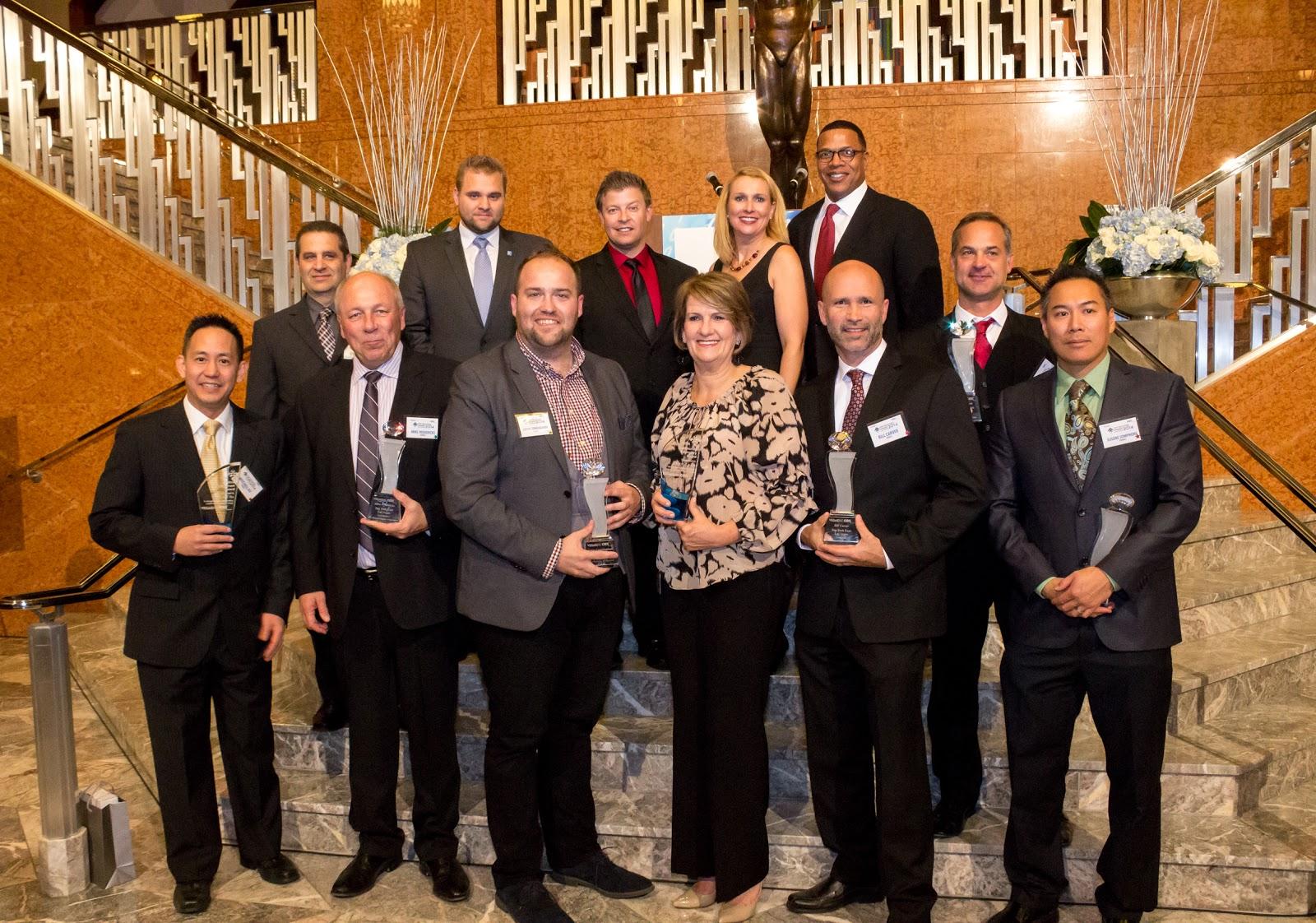 Vegas Inc Awards PuTTinOuT.com 2014 Top Tech Community Exemplary Award
Gift & Home Industry social media consultant Christi Tasker receives the Las Vegas community technology award for her outstanding achievements in Southern Nevada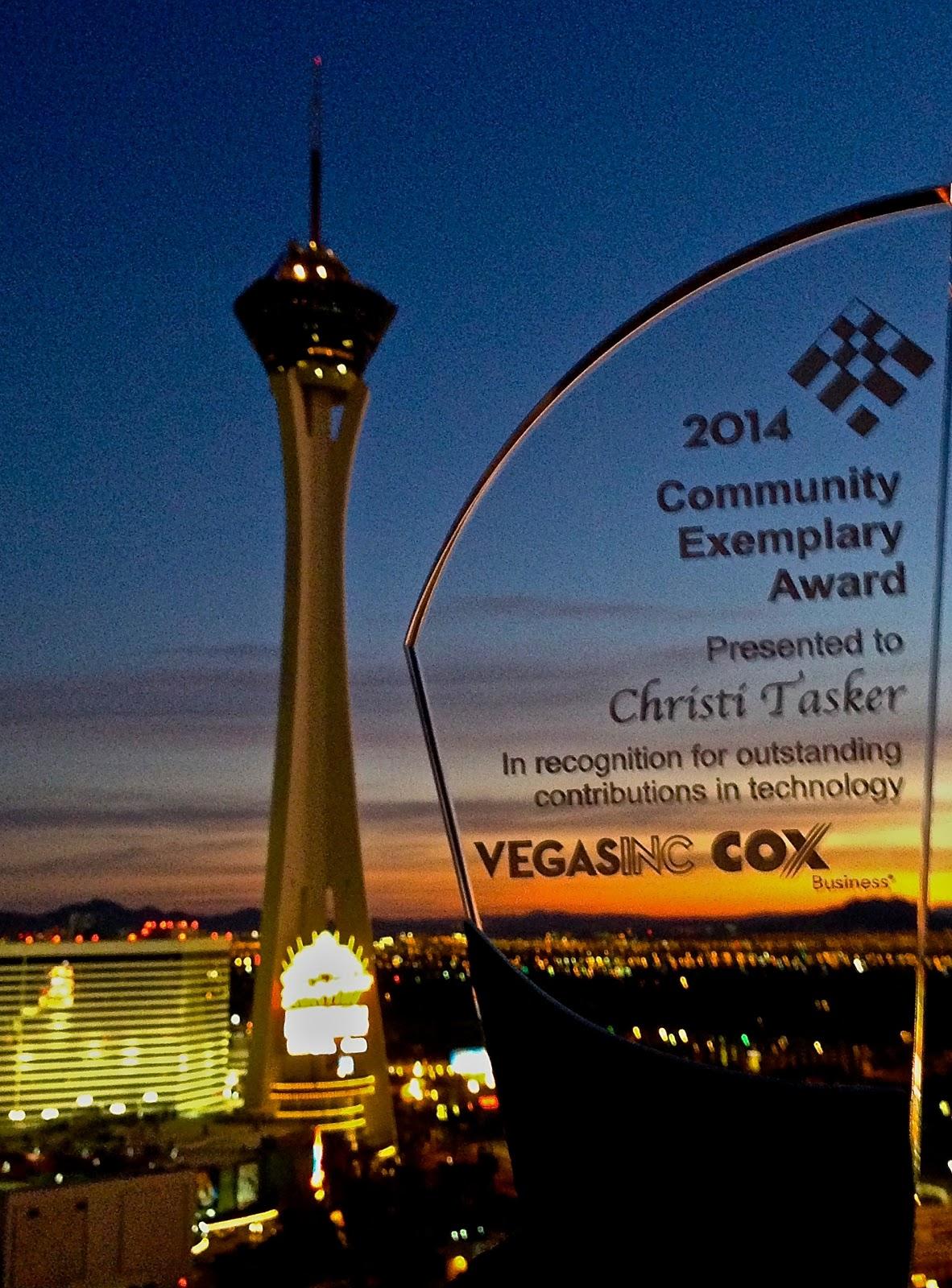 Las Vegas, Nevada- Christi Tasker, CEO and founder of PuTTinOuT.com, received the Top Tech Executive Award for Community Exemplary. Christi was nominated for impacting multiple companies within the Southern Nevada community of Las Vegas. Tasker directly contributed to the growth, visibility and bottom line of companies such as International Market Center's World Market Center Las Vegas, and local award winning interior design studio, Inside Style Home, among others.
"It is an incredible honor to be nominated for such an innovative community award in Las Vegas. To think that it was achieved in the midst of some of Silicon Valley's brightest Las Vegan transplants and my peers from the Tech Cocktail group makes this award even more special. " Said Christi Tasker.
The Award at the PuTTinOuT.com offices
overlooking the Las Vegas Stratosphere Hotel and Casino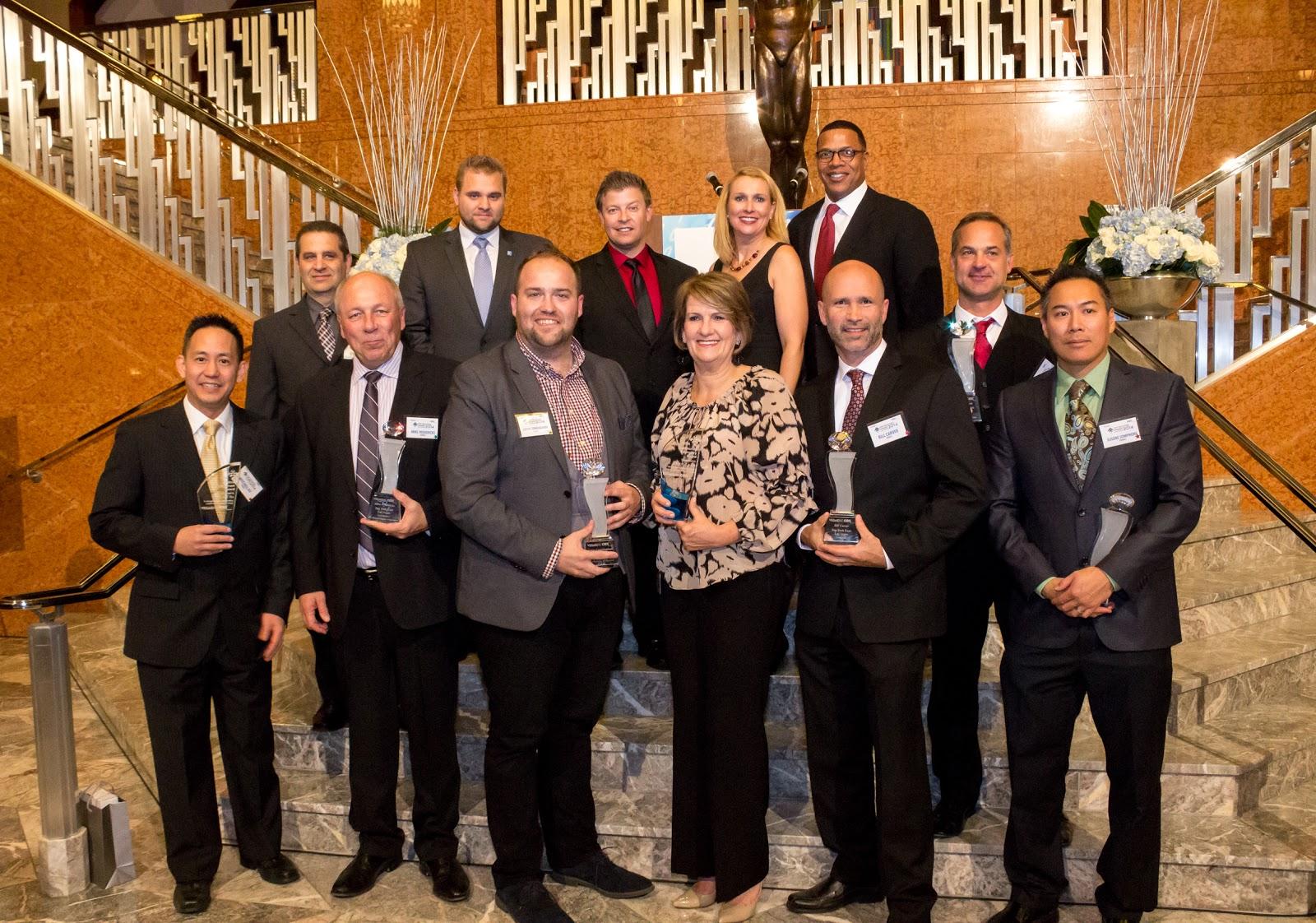 Photo Credit: © Tek Le / Greenspun Media Group
Tasker was unable to attend but had her mother and former business partner, Pamela Davis Reeves (pictured above – lower front, center), accept the award on her behalf.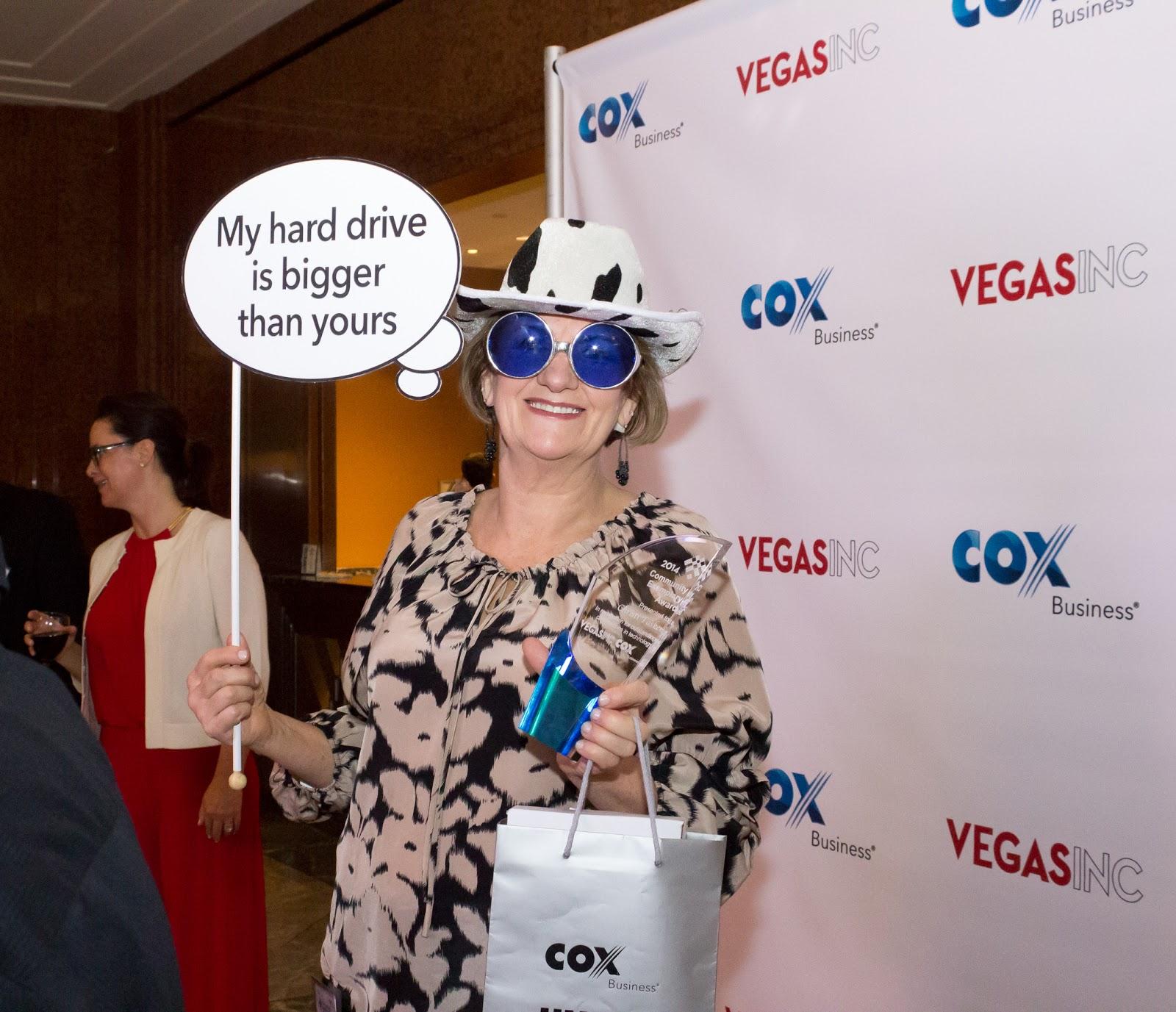 "It's really astonishing to have watched Christi's career as she's able to help organizations and businesses attain results in attendance to tradeshows just as we did in our retail store where she began her marketing career." Said Pamela Reeves of Suwanee, Georgia.
PuTTin' OuT contributed to advances in technology with a company-owned and operated automated software capable of social marketing responses and email marketing as well as branding advancement in the Vegas community and beyond.
The fourth annual Tech Award ceremony was hosted by Vegas Inc. and Cox Communications and took place at The Smith Center for Performing Arts. Cox Communications Inc. and Bloomberg TV sponsored the event. Winners were selected based on a series of submissions and projects for their greatest technical achievements in Southern Nevada. An independent panel of judges chose winners from 10 categories. Selections were based on factors such as recent achievements, impact on his or her company, major projects and more.
More photography and interview available by contacting: Christi@PuTTinOuT.com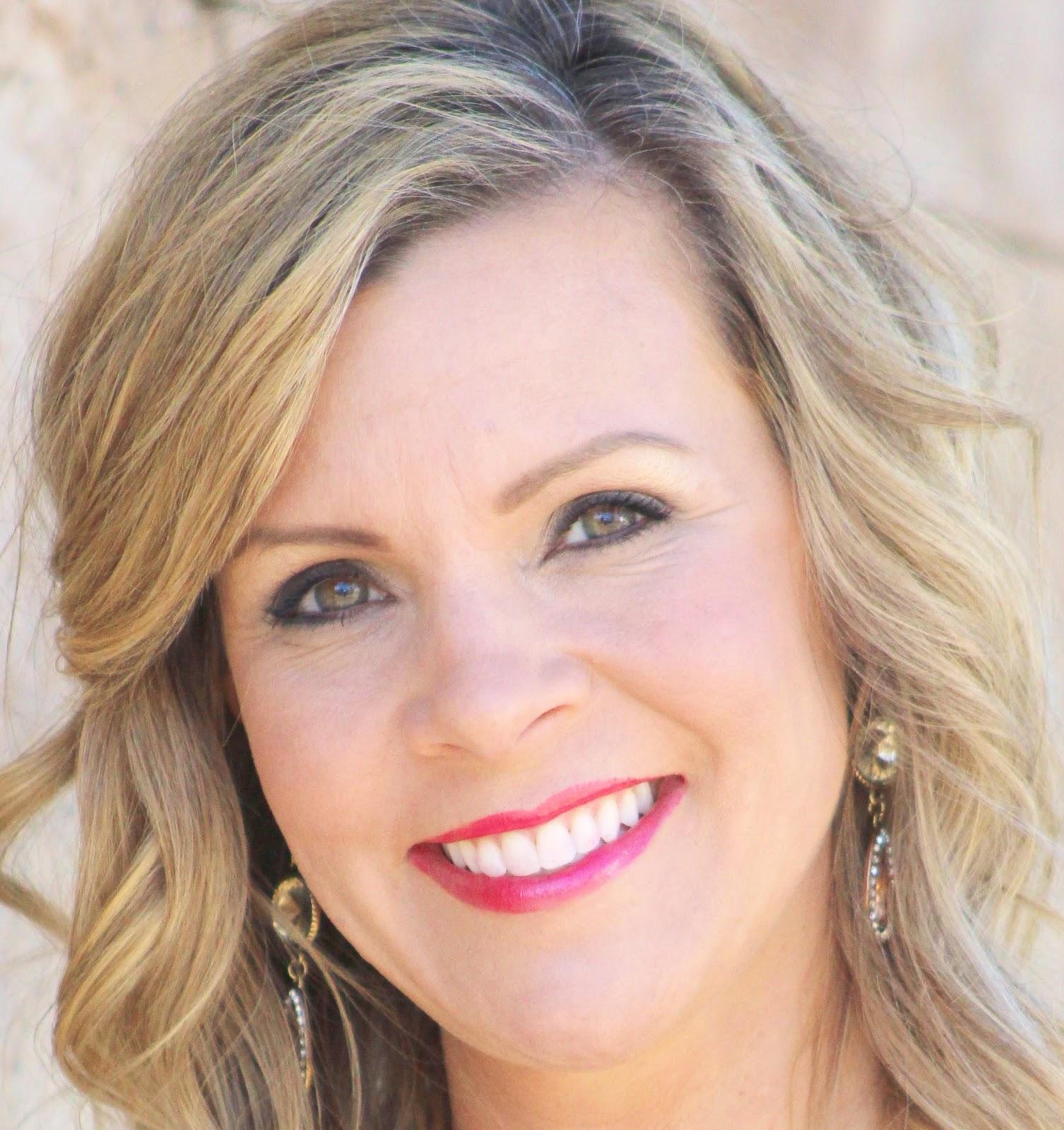 About Christi Tasker: Christi Tasker is an international Social Media Consultant, Coach, Author, and Speaker who evolved into the online marketing arena in 2009 via her interior design firm and retail store. Christi is also a social media expert on NBC news and a contributor to Public Relations Newswire, Social Media Today and TechCrunch.co. In winter of 2013 she won the Public Relations Society of America (PRSA) Award for Social Media Marketing for the Las Vegas Market located in Downtown Las Vegas. For more information and to follow Christi's personal travels, visit: www.PSthisRocks.com
About PuTTin' OuT: PuTTin' OuT was launched in 2010 in Las Vegas, Nevada by founder Christi Reeves Tasker. Tasker founded PuTTinOuT.com to help manufacturers, major retailers and interior designers find new online and social media avenues to build online relationships with their consumers, fans, and the traditional press media. Vegas became the ideal location for a progressive and innovative company that could support a technology-based marketing firm and its clientele who typically host events, conferences, trade shows, or have a business presence in Southern Nevada or California. Today PuTTin' OuT has employees in five different U.S. states and three countries overseas. Each of the employees has a specifically trained niche job and strives to reach the company mission: Help people reach their dreams and aid businesses in achieving success with spot-on brand marketing & reputation management. For more information, visit www.puttinout.com.
About Vegas Inc: Vegas Inc is a weekly business-to-business publication geared for professionals. Each week, readers are enticed with a 360-degree approach to business coverage as Vegas Inc explores the city's most pressing topics ranging from gaming, tourism, finance, entertainment and real estate to healthcare, dining and social media. For more information on the 2014 Top Tech Exec Awards, please visit www.VegasInc.com.