Fashion expert adds her signature glamorous style to handcrafted leather tennis bags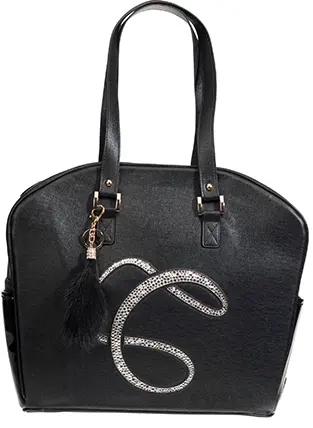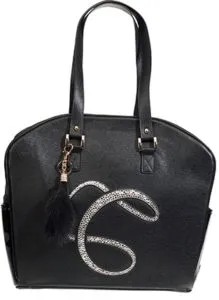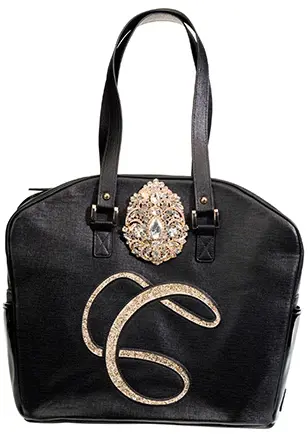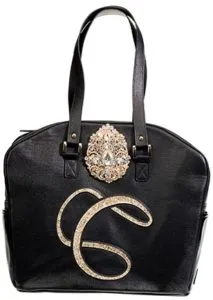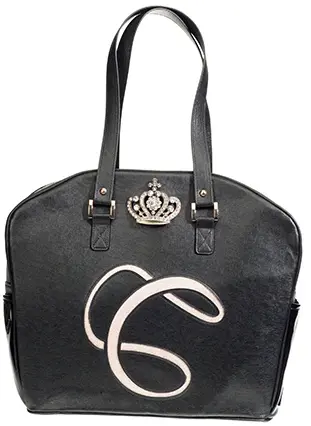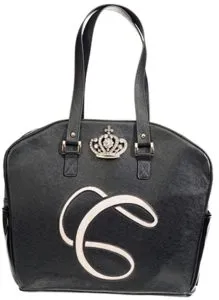 SAN FRANCISCO – March 18, 2016 -Cortiglia, the leader in high end, handcrafted designer tennis bags, has collaborated with interior designer, artist, entrepreneur, and HGTV television host Donna Moss on a set of totes customized with her signature glamorous style. Known for incorporating her love of "bling" into her home designs and remodels on her HTGV show Donna Decorates Dallas, Moss added tasteful touches of gold, silver, and jewels to three Cortiglia leather Signature Logo bags.
"Cortiglia bags, with their stunning design, luxurious top grain leathers, and stylish hardware are gorgeous without any embellishment," said Moss. "My goal was to add just enough bling to make them sparkle. I was pleased with the results, and honored to have participated in such a worthwhile effort especially to benefit one of my favorite charities, Make a Wish."
Cortiglia bags have redefined a market formerly dominated by oversized and shapeless vinyl duffels that were functional but not fashionable. The Cortiglia line's sleek profiles and fashion-forward details have taken the tennis world by storm. Many women on the professional circuit including Bethanie Anne Mattek now carry Cortiglia, with some of them, like Wimbledon Champion Marion Bartoli, contributing their own bag designs for an exclusive tennis tote collection with Cortiglia. "When I took up tennis many years ago, I was surprised by the lack of stylish totes for carrying gear," said Jill LaCorte, founder and CEO of Cortiglia, and accomplished amateur tennis player. "After years of trying to find a bag that I'd be comfortable taking to the court but also carrying around town, I decided to design my own. The response from players looking for both function and fashion has been tremendous. After viewing one of Donna's shows on HGTV, I decided to ask her to create a bag for the Art Basel Miami collection where I artists could do whatever they wanted with the bags to benefit their favorite charity. It was a little different I know, but I wanted a diverse group of artists and designers to see what the tennis players and Cortiglia artists were really interested in. Simple? Glam? Sparkle? Donna's bling?Regardless, I insisted that the Queen of Bling 'Bling it on!'"
The Cortiglia line includes a wide range of styles and colors. Five new model/shade combinations of women's bags will be added in 2016, two of them recently released for the BNP Indian Wells tournament and the company's first men's bag will be released by Father's Day.
LaCorte is along-time supporter of outreach programs that seek to share the game of tennis with women in developing countries. She also is involved in the arts, including with Cortiglia's Art Basel Collection, which is made up of bags embellished and painted by a number of talented artists. Proceeds from the auction of the bags go to the charity of the artist's choosing. Moss named the Make-a-Wish Southern Florida Chapter her recipient because the chapter is in the heart of Miami and considering her international presence and television viewers are worldwide, she believes in supporting charities that are local to the project.
The collection is on display for a limited time at Wynwood Lab, a members-only laboratory where artists of all types gather to create greatness complete with an art gallery, and event venue in Miami's world-renowned Wynwood Arts District, where the bags can be viewed by appointment. Contact www.WynwoodLab.com for more information or to view the totes in person.
About Cortiglia (www.cortiglia.com)
Cortiglia is a leading producer of stylish designer tennis bags and  accessories. Handcrafted in Italy from top grain leathers, high-quality nylon, and beautiful hardware, Cortiglia totes are highly regarded for their unique blend of fashion and function. Jill LaCorte, founder and CEO of Cortiglia, is the custom bag designer and manufacturer of fine tennis bags for such events as Wimbledon and Necker Island, among others.
About Donna Moss (www.DonnaMossDesigns.com)
Donna Moss brings her glamorous and lush decor into every space she decorates. A former finalist on HGTV's Design Star, she hosts the HGTV series Donna Decorates Dallas, where she shows the big (and small!) details that make up a fabulous Texas home. She is also the owner of That's Haute and That's Haute Kids (the latter with her daughter Tiffany), fashion and design boutiques. Donna hosts and sponsors local and national charity events including A Wish With Wings and serves on the board of The Arts Council. With numerous awards achieved and her work featured in People Magazine and InStyle Magazine, Donna proves that you can "bling it all"-bold, gold, and glam! In 2017, Donna Moss will build and host the Traditional Home Decorator's with her husband, Paul Moss.