7 artists, 17 original bags with proceeds going to each artist's favorite charity
MIAMI – December 30, 2015– Cortiglia announces the live auction of seventeen original designer artisan tote bags created by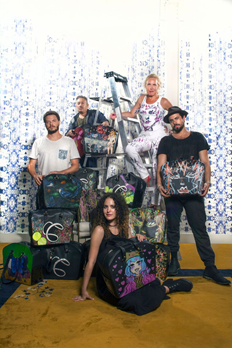 seven different artists. Totes were created during Art Basel Miami are now on Cortiglia's Facebook page www.Facebook. com/CortigliaBags for live bidding until January 3rd at midnight. Each artist was given the exact same three Cortiglia bags to transform via their own vision to raise money for charities. The basic Cortiglia tote with no artistry retails for $285.00 Founder of Cortiglia Jill LaCorte expects proceeds to exceed $10,000 and will be donating all of the Art Basel Collection proceeds to the artist's charity choice.
The artists are all world-renowned from all over the globe and all different levels of their careers. The chosen artist for the Cortiglia Original Art Basel 2015 Collection are pictured from left to right as follows:
Mateus Bailon, a Brazilian wall artist with the infamous indoor room at Wynwood Lab hand-painted a version of his iconic birds to benefit Make-A-Wish.
Miguel Paredes, a Miami pop-artist transformed three bags with his Pulgha character and a Japanese garden motif to benefit Lotus House.
Izabella Smith, a Florida native is the youngest artist in the mix with three nature themed hand-painted benefit 4 Kids of South Florida.
Matheus Goulart, a Brazilian artist living in New York painted three bags in various colors with his iconic Goulart faces to benefit Rush Philanthropic Arts Foundation.
Not pictured:
Donna Moss from Dallas, TX known as the "Queen of Bling" from the hit HGTV show Donna Decorates Dallas created three bags that benefit Make-A-Wish define her bling it on nature of being a queen.
Nicolle Cure, a Miami local artisan painted with the Cortiglia tennis audience in mind incorporating tennis racquets and tennis balls to benefit Labs 4 Rescue.
Shannon DeFreitas, Fort Lauderdale firefighter by day, body artist by night went Deep in Paint style on her bag to benefit the Burn Foundation.
Cortiglia founder and CEO Jill LaCorte interviewed each of the artist to discuss their inspiration for their artistic practices and insights for the bags at Wynwood Lab where the bags are also on display. "I'm absolutely thrilled with the bags and true artistic innovation that each artist used. It's hard to believe that all of the bags are exactly the same considering the results are drastically different," said LaCorte. "Their imagination and creativity is simply incredible. When I saw the first few, I did not even recognize them as Cortiglia totes. I'm so pleased that some very worthy charities will benefit from this unique collaboration" Watch the full interview by going to www.Facebook.com/CortigliaBags/videos
Driven by LaCorte's desire to give back, Cortiglia is involved with a number of charitable endeavors, including the donating of bags to organizations that promote the game of tennis in Africa. "We love what we do at Cortiglia, and our company has been blessed with the support of a loyal and growing customer base from Wimbledon to Necker Island," said LaCorte. "Sharing our success with others – whether it's new tennis players in Africa or charities in the U.S. through our involvement in the Art Basel Collection – is just a small way of expressing our gratitude and our heartfelt desire to see others succeed."
Bags are on display in the Wynwood Lab Gallery located in Miami, Florida and viewable by appointment until the auction ends on January 3, 2016 at mid-night PST. To schedule a viewing call: 305-400-9715.
For more information or high resolution images please click here. Email or Call Christi Tasker for artist interviews: Christi@TaskerAgency.com or call: 702-703-9047
About Cortiglia (www.cortiglia.com)
Cortiglia is a leading producer of stylish designer tennis bags and accessories. Hand-crafted in Italy from top grain leathers, high-quality nylon, and beautiful hardware, Cortiglia totes are highly regarded for their unique blend of fashion and function. Jill LaCorte Founder of Cortiglia is the custom bag designer and manufacturer of fine tennis bags for such events as Wimbledon, Necker Island, among others. Follow Cortiglia on Facebook.com/CortigliaBags – Instagram: @CortigliaBags Twitter: @CortigliaBags
About Wynwood Lab (www.WynwoodLab.com)
Wynwood Lab is a members-only luxury lifestyle collaboration space, gallery, and event venue. Located in Miami's Wynwood Arts District, the Lab brings together artists in all mediums – from fine art to music to the culinary arts – and companies looking to work with them to create new art-inspired products and promote existing product lines. Follow Wynwood Lab on Twitter and Instagram– @WynwoodLab and on Facebook.com/WynwoodLab for public details, news, and announcements.
About Art Basel
Art Basel produces the world's premiere Modern and contemporary art fairs annually in Basel, Switzerland, Miami, and Hong Kong. The purpose of the events is to connect the international art community and support the role that galleries play in nurturing the careers of artists. In total, nearly 200,000 visitors view art from more than 500 leading galleries at the three events.