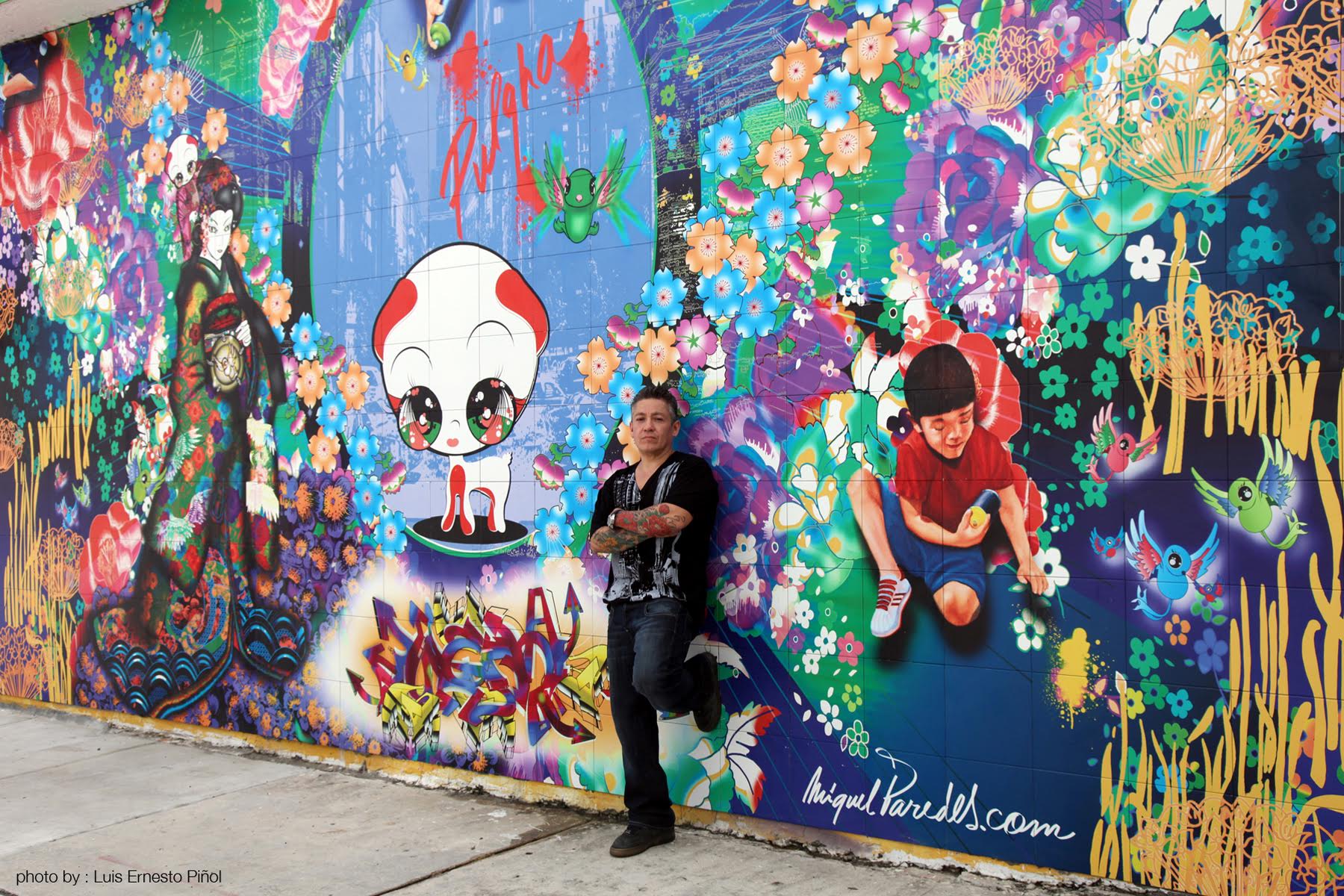 Renowned pop artist and urban realist to show as many as 10 recent works as a member of the new luxury lifestyle,presentation,and event venue
MIAMI – November 17, 2015 – Wynwood Lab, a new members-only collaboration space, gallery, and event venue featuring high-end art, home decor, and luxury products, has announced that multi-media pop artist Miguel Paredes will be among the first members to join, and will be displaying new works beginning with the Lab's Grand Opening event called Co.LAB.orate on December 3 during Art Basel Miami. Paredes will also be discussing his work in an invitationonly presentation on December 4 at 7pm at Wynwood Lab.
Born and raised in Manhattan, Paredes fuses the power and immediacy of New York City graffiti with the skill and precision of a classically trained artist. His early artistic ability earned him an invitation to study at the highly regarded Fiorello La Guardia High School of Music and Art, which many know from its portrayal in the movie Fame. Paredes was later influenced by Ronnie Cutrone, an immediate assistant to Andy Warhol. Today Paredes' works are in the collections of individuals, companies, public and private agencies, celebrities, and musicians around the world.
"I'm excited to be showing my works in this unique new venue, and to be doing so in the company of a group of really talented artists," said Paredes, referring to a lineup that includes, Matheus Goulart, Dr. Steven Swancoat, Mateus Bailon, among others. "I'm also looking forward to catching up with my collectors and other people who are interested in my work."
Paredes' is currently working on a series of paintings based on 1960s love-themed comics. "All of my paintings tie into my personal life in some way," he said. "These comics really struck a chord with me. I'm eager to show the paintings at Wynwood Lab."
Paredes' portion of the Wynwood Lab group show may contain as many as 10 paintings. The large works will feature a mix of realism and two-dimensional techniques. It is unknown whether the anime-type character known as Pulgha that he created nearly 15 years ago and that features prominently in his work will be represented in the new pieces.
"We're thrilled and honored to have Miguel as one of our honorary founding members and among the first artists to display their art here," said Christi Tasker, Wynwood Lab cofounder and "Chief Happiness Officer." "His skill and creative vision are truly phenomenal."
Wynwood Lab is located at 150 SE 25th Road #4D Miami, FL 33129. Membership is granted through an application process, which can be initiated at www.WynwoodLab.com. For more information on membership or hosting an event, please contact Christi Tasker – Christi@TaskerAgency.com or info@WynwoodLab.com. Or visit www.WynwoodLab.com
About Wynwood Lab
Wynwood Lab is a members-only luxury lifestyle collaboration space, gallery, and event venue. Located in Miami's Wynwood Arts District, the Lab brings together artists in all mediums – from fine art to music to the culinary arts – and companies looking to work with them to create new art-inspired products and promote existing product lines. Wynwood Lab is the brainchild of Boyd and Christi Tasker.
Boyd Tasker is also CEO of Tasker International, LLC and former director of leasing for the Better Home Goods division of Las Vegas- and High Point, NC-based commercial real estate investment group International Market Centers, L.P. which is owned by Bain Capital LLC and Oaktree Capital Group LLC. In addition, he has extensive experience in currency trading and publishing.
Christi Tasker is also CEO of PuTTin' OuT LLC, a successful digital media and marketing agency, and ringmaster of sister company, Tasker Agency, a traditional marketing firm focused on experiential marketing for luxury brands. Previously an award-winning interior designer, and retailer, she is a respected international social media consultant, coach, author, and speaker. She has shared her expertise on NBC News and PR News Press, and is a regular contributor to several online social media and marketing platforms and other publications.
Follow Wynwood Lab on Twitter and Instagram @WynwoodLab and on Facebook.com/WynwoodLab
About Miguel Paredes
Born and raised in Manhattan and now Miami-based, Miguel Paredes is an internationally collected multi-media pop artist, sculptor, and urban realist. With formal art education that began at the prestigious Fiorello La Guardia High School of Music and Art, he was later mentored by Ronnie Cutrone, an immediate assistant to Andy Warhol. Miguel's vibrant, colorful paintings can be found in collections around the globe. His works have also been featured in Miami's famous Art Basel every year since 2003 and in other influential shows worldwide.
About the Wynwood Arts District
The Wynwood Arts District boasts more than 70 art galleries, retail stores, eclectic bars, and restaurants. It is also home to many artists who have taken up residence, and created studios, in the rehabilitated factories and warehouses of the area. The district has become a shopping mecca and nightlife destination for the art, fashion, and entertainment elite who come to Miami.
About Art Basel
Art Basel produces the world's premiere Modern and contemporary art fairs annually in Basel, Switzerland, Miami, and Hong Kong. The purpose of the events is to connect the international art community and support the role that galleries play in nurturing the careers of artists. In total, nearly 200,000 visitors view art from more than 500 leading galleries at the three events