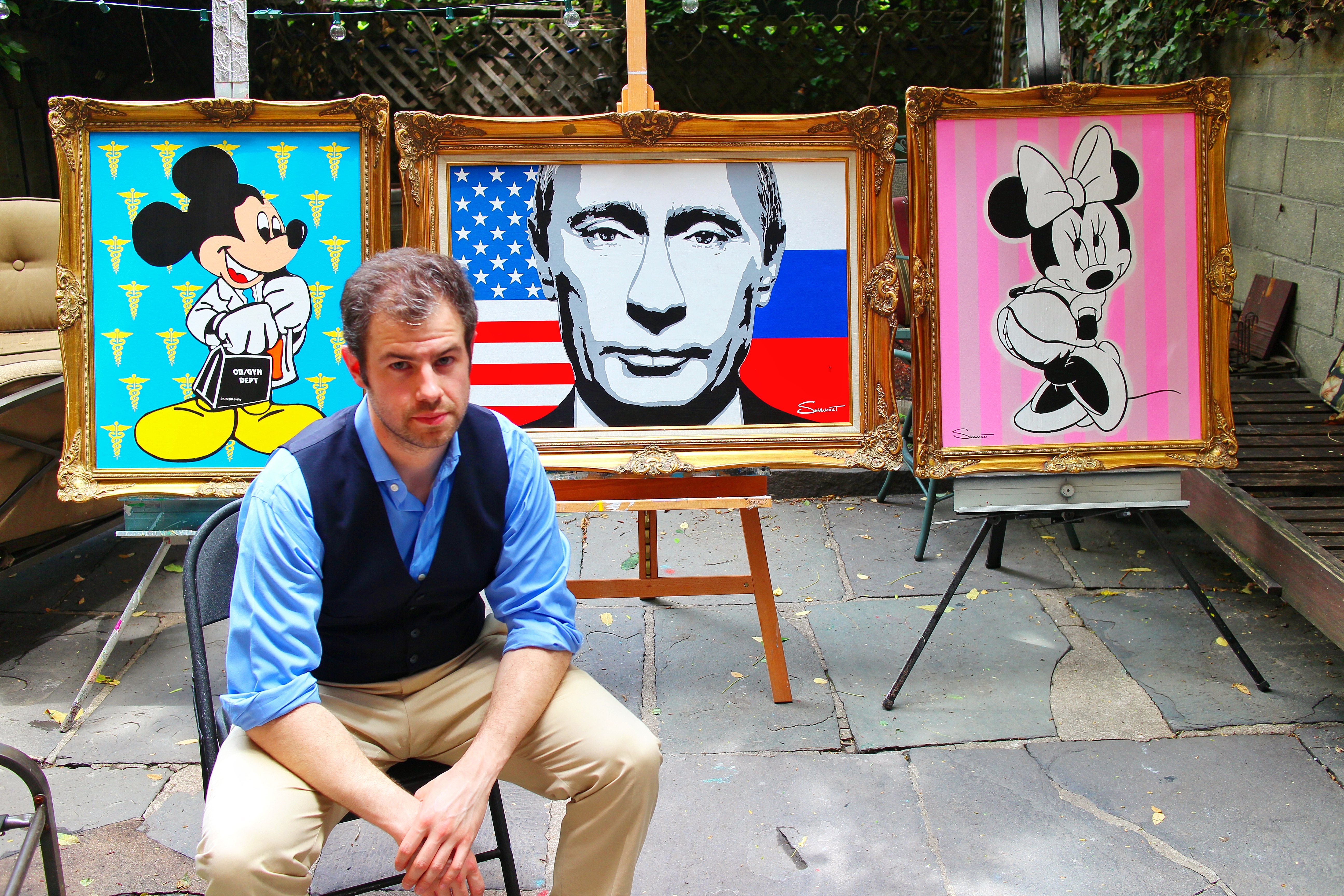 OB/GYN by day, artist by night to display paintings previously residing in the Russian Embassy in New York City.
MIAMI – November 17, 2015– Wynwood Lab, a new members-only collaboration space, gallery, and event venue featuring high-end art, home decor, and luxury products, has announced that medical doctor and artist Steven Swancoat, one of its first artist members, will be displaying works he created for Russian President Vladimir Putin.
A self-taught painter who first picked up a brush just four years ago, Swancoat is quickly gaining a reputation as a talented and creative artist. "I had no art training, and not really much of an interest to speak of, until my dad visited me in New York and encouraged me to give photography, and later painting, a try," he said. Ultimately, a chance conversation with a fellow doctor who also happened to have been a physician on the last Russian Winter Olympic team and a colleague of Vladimir Putin led to Swancoat completing a series of paintings for the Russian President.
"As an artist who loves exploring new creative territory, I feel a real connection with Wynwood Lab," said Swancoat. "The concept of the venue is very unique. I'm excited to display my paintings there upon the opening during Art Basel."
In addition to showing his work, Swancoat will tell the story behind the "Putin Paintings" on December 4 at 6pm at WynwoodLab. Joining him for the presentation will be Dr. Boris Petrikovsky, the man who connected him with Putin and hand-delivered one of Swancoat's paintings to him. "I told Steven that I couldn't just call President Putin any time, but that I could get tea or lunch arranged for when I returned to Russia with the painting," said Petrikovsky. "I look forward to sharing our story.
Surprisingly for a doctor who often works 80 hour weeks, Swancoat has a number of new projects either underway or in mind. He also accepts commissions. "I try not to get too tied down with commissions, as I like to maintain my artistic freedom," he says, "But if the project sounds interesting and I'm given enough latitude, I will definitely consider it."
"That one man can be so skilled and so accomplished in multiple fields is truly impressive," said Christi Tasker, Wynwood Lab cofounder and "Chief Happiness Officer." "We feel truly fortunate to have Steven as a member of Wynwood Lab, and to have the opportunity to share the experience of the 'Putin Paintings' firsthand with Wynwood Lab members."
Wynwood Lab is located at 150 SE 25th Road #4D Miami, FL 33129. Membership is granted through an application process, which can be initiated at www.WynwoodLab.com. For more information on membership or hosting an event, please contact Christi Tasker – Christi@TaskerAgency.com or info@WynwoodLab.com. Or visit www.WynwoodLab.com.
About Wynwood Lab
Wynwood Lab is a members-only luxury lifestyle collaboration space, gallery, and event venue. Located in Miami's Wynwood Arts District, the Lab brings together artists in all mediums – from fine art to music to the culinary arts – and companies looking to work with them to create new art-inspired products and promote existing product lines. Wynwood Lab is the brainchild of Boyd and Christi Tasker.
Boyd Tasker is also CEO of Tasker International, LLC and former director of leasing for the Better Home Goods division of Las Vegas- and High Point, NC-based commercial real estate investment group International Market Centers, L.P.which is owned by Bain Capital LLC and Oaktree Capital Group LLC. In addition, he has extensive experience in currency trading and publishing.
Christi Tasker is also CEO of PuTTin' OuT LLC, a successful digital media and marketing agency, and ringmaster of sister company, Tasker Agency, a traditional marketing firm focused on experiential marketing for luxury brands. Previously anaward-winning interior designer, and retailer, she is a respected international social media consultant, coach, author, and speaker. She has shared her expertise on NBC News and PR News Press, and is a regular contributor to several online social media and marketing platforms and other publications.
Follow Wynwood Lab on Twitter and Instagram @WynwoodLab and on Facebook.com/WynwoodLab
About Dr. Steven Swancoat
Steven Swancoat is a practicing OB/GYN and highly regarded artist living in New York City. In just four years he has made over 250 paintings, hosted numerous solo exhibitions and raised over $20,000 for various charities with his art. Self-taught, he has risen to prominence with a style he and painting partner Tripp Derrick Barnes refer to as PopNeoism. He has been featured on Bravo Television, New Physician Magazine and in numerous publications. His work can be found in prominent collections around the world, including that of Academy Award winning actress Susan Sarandon and Russian President Vladimir Putin.
About the Wynwood Arts District
The Wynwood Arts District boasts more than 70 art galleries, retail stores, eclectic bars, and restaurants. It is also home to many artists who have taken up residence, and created studios, in the rehabilitated factories and warehouses of the area. The district has become a shopping mecca and nightlife destination for the art, fashion, and entertainment elite who come to Miami.
About Art Basel
Art Basel produces the world's premiere Modern and contemporary art fairs annually in Basel, Switzerland, Miami, and Hong Kong. The purpose of the events is to connect the international art community and support the role that galleries play in nurturing the careers of artists. In total, nearly 200,000 visitors view art from more than 500 leading galleries at the three events.