Sought-after design expert works with manufacturers and leading local + international artists to craft first transformation of Wynwood Arts District gathering place
Miami, Florida – March 30th, 2016 – Wynwood Lab, a new members-only design collaboration space, gallery, and event venue for enthusiasts of high-end art, home decor, and luxury products opened its doors to eager visitors during Art Basel in December. Guests and media touring the space got a firsthand look at the talent of Erinn Valencich (aka Erinn V.). As the debut interior designer, she was responsible for all decisions on furniture and accessory selection and room layouts. Her designs will remain intact until the end of April when Wynwood Lab will be transformed again just in time for Maison&Objet Americas.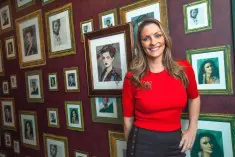 "The opportunity to create a whimsical space that is fun and filled with art for Wynwood Lab was something I couldn't pass up," said Valencich. "The Lab is a concept that's as unique as the Wynwood Arts District that surrounds it. With access to furniture, accessories, art, and lighting from some of the foremost manufacturers and artisans in the world, it is really a designer's dream come true.  I chose to work with some of the top brands around the world such as Snaidero USA and Tecnogas from Italy in the kitchen, which turned out to be one of my favorite spaces.  For the living spaces I curated a high and low mix, selecting pieces from Phillips Collection, Amadi Carpets, Circa Lighting, Nick Alain, B.Pila, Global Views, as well as  13 pieces of furniture from my line, Erinn V.  The space morphed from an empty warehouse into a fantasyland with art as its core. It was such a pleasure working with all the local and international artists who helped us pull this transformation off."
Wynwood Lab is also a dream for design editors and others in the industry who are interested in seeing luxury furnishings in a real world setting. It consists of seven distinct indoor spaces:
– Entrance and main lounge. Leather Brackpool chairs and Catherine chaise from Erinn V. anchor the space,    with a wide range of accessories from Global Views creating visual interest and Circa Lighting setting the mood. Dream catchers from artist B. Pila add a touch of organic elegance.
– Dining room. A gorgeous organic tree trunk table and wood console from Phillips Collection give the room a natural feel. They rest on a stylish rug from Amadi, in a space lit by a beautiful chandelier from Nick Alain.
– Library. Books from E. Lawrence catch your eye as you enter this room, which contains furniture from Erinn V., Nick Alain, and Phillips Collection, with accessories from Global Views, PTMD by Maka, and Worlds Away. The Saturn lighting from Nick Alain, who once designed lighting and furniture for the late Gianni Versace, is impressive.
– Bedroom. This room blends a number of styles of furniture, accessories, and lighting from Erinn V., Nick Alain, Global Views, Circa Lighting, and B. Pila into a wonderfully cohesive space. The huge hand-painted mural is by Brazilian wall artist Mateus Bailon,
– Kitchen area. A Bruce Andrews armchair and an Amadi carpet add softness to this chef's kitchen, which features cabinetry by Italian fine cabinet makers Snaidero, along with Liebherr, GE appliances and the first Technogas installation in America.
– Hallway and bathroom area. Stylish Circa Lighting and a lovely mirror from Uttermost command your attention here, with Rubinet Faucet Company fixtures, a Kohler sink, Cosentino countertops and Snaidero cabinetry.
– Gallery. The art steals the show in this space, as it should, with adjustable art rails and lighting from Gallery Rail Systems.  The flooring is from Quick-Step.
The Lab also has an outdoor area known as the Secret Garden, designed by landscape architect David Font, which will be an in-demand space for intimate weddings once the word gets out.
"We feel truly fortunate to have someone as talented as Erinn Valencich as our debut designer," said Boyd Tasker, Wynwood Lab co-founder with wife Christi Tasker. "Not only is she incredibly skilled, she's also a genuinely nice person who our staff and our suppliers love to work with.
About Wynwood Lab (www.WynwoodLab.com)
Wynwood Lab is a private members-only luxury lifestyle collaboration space, gallery, and event venue. Located in Miami's Wynwood Arts District, the Lab brings together artists in all mediums – from fine art to music to the culinary arts – and companies looking to work with them to create new art-inspired products and promote existing product lines. Wynwood Lab is the brainchild of Boyd and Christi Tasker and the gathering place for leading artists such as Javier Gomez, People magazine's "Sexiest Artist Alive", Lance Bass of the former band NSync and co-host of The Meredith Vieira Show along with showcasing the works of his husband artist, Michael Turchin. Other design members include ELLE DÉCOR magazine's Top 100 Interior Designers, along with many others.
Boyd Tasker is CEO of Tasker International, LLC and former director of leasing for the Better Home Goods division of International Market Centers, a Las Vegas and High Point, NC-based commercial real estate investment group owned by Bain Capital LLC and Oaktree Capital Group LLC. In addition, he has extensive experience in currency trading and publishing.
Christi Tasker is CEO of PuTTin' OuT LLC, a successful digital media and marketing agency. She is also ringmaster of sister company, Tasker Agency (www.taskeragency.com), a traditional marketing firm focused on experiential marketing for luxury brands and celebrity personalities. Previously an award-winning interior designer and retailer, she is a respected international social media consultant, coach, author, and speaker. She has shared her expertise on NBC News and PR News Press, and is a regular contributor to several online social media and marketing platforms and other publications. Follow Wynwood Lab on Pinterest, Twitter and Instagram – @WynwoodLab and on Facebook.com/WynwoodLab