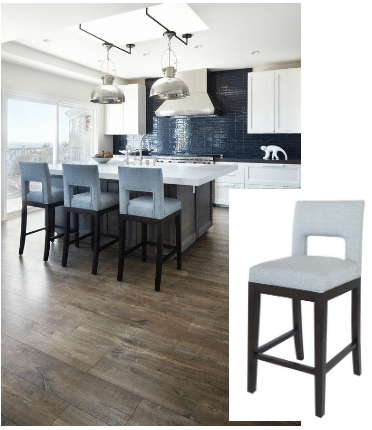 Beverly Hills Interior Designer Erinn Valencich Debuts New Home Line
Erinn V Home launches exclusive new complete home furnishings in IHFC InterHall this Fall 2014 High Point Market on October 18-­23, 2014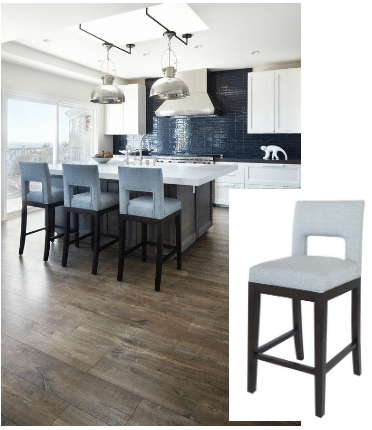 After a thorough and demanding juried selection process, Erinn V Home will be one of fifteen new exhibitors who earned a spot at InterHall. InterHall is the cutting­edge spot for design­oriented companies at High Point Market. Here, the Erinn V Home line will be launching authentic and exclusive new furnishings. The new collection offers close to one hundred different product pieces.
The Cohen Barstool is one of the new products featured in the Erinn V Home line. Shown in gray fabric upholstery and wood espresso legs, the barstool is also available in custom finishes, like many other products in the new collection.
Erinn V Home strives to create a beautiful line of products that are available and affordable to all homeowners, without sacrificing the quality in any way.
Brand designer Erinn Valencich says of her new line, "I came out with this new line because I wanted to offer something of exceptional quality and exclusivity to each designer's choice of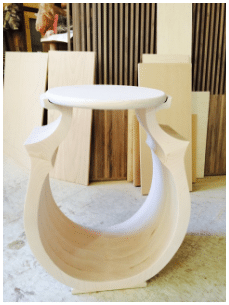 finishes and fabrics, all while keeping the cost to a minimum. I made it a goal to provide the best of both worlds: high end products at an affordable price. Now, the thought of being one of the few designers in the world to showcase in High Point's IHFC InterHall is icing on the cake and a dream come true!"
(See photo right) Photography on the Erinn V Home collection is available upon request. Erinn says, "Wait until you see this side table in its glorious finish! I couldn't resist sharing my journey of manufacturing with my social media audience or my favorite magazines.
Kevin Walker, President of Erinn V Home, comments on the finishing­ touches of the product line, "All of our upholstery and frames are both made and hand­finished in Los Angeles. Retailers and designers alike will be able to showcase unique product on their floors that aren't offered by their competitors. In late fall, products begin shipping to designer showrooms and furniture stores that have pre­ordered before the show. We are excited for everyone to see the product in person during the High Point Market."
You will find the new Erinn V Home showroom in the IHFC building at High Point Market, at IH200. Join Erinn V Home to meet, greet, and grab a selfie with the Beverly Hills' interior designer herself ­ Erinn Valencich. She will be available for questions about her television life and to share her designer secrets on Sunday, October 18, 2014 from 2pm­4pm EST in the Erinn V Home Showroom. R.S.V.P ­ click here.
To learn more about Erinn Valencich, visit www.erinnv.com. For photography release please email a request to view the full line.
About Erinn Valencich: http://erinnv.com/about/
Erinn Valencich­ is a Beverly Hills interior designer and television personality. Her talent has been showed on television shows such as "The View," "Extra" and "Entertainment Tonight." In addition to hosting several specials for HGTV, Erinn was one of twelve interior design contestants on NBC's "American Dream Builders." Through her firm, Erinn V Design Group, she has worked as a designer for many celebrities, transformed the set of "The Ghost Whisperer" and even completed The Downtown Grand in Las Vegas, a 650­room hotel. Erinn's decor showroom is on Robertson Blvd. in Los Angeles, CA. Her collections are available online through www.erinnv.com, www.ErinnVMaison.com and in upscale furniture showrooms nationwide.
About Erinn V Home: www.erinnv.com
Erinn V. Home came to fruition in 2014, when Erinn decided she wanted to design an affordable yet high­end home collection. Erinn V Home will make its debut at the 2014 High Point Market in October. All frames and upholstery are constructed and hand­finished in Los Angeles. The Erinn V Home line offers both luxury and modest prices to its pursuers.
About American Dream Builders: www.nbc.com/american­dream­builders
In March 2014, "American Dream Builders" premiered on NBC. Featuring some of the most talented and accomplished designers from across the country, ADB was a high­stakes competition taking place during dozens of home renovations. Joining renowned designer Nate Berkus as a judge was NFL pro Eddie George and interior design expert Monica Pedersen. The show's final episode would come down to just two contestants, competitively taking on two Southern California homes.
About InterHall in IHFC:
InterHall remains the design mecca for companies alike at High Point Market. Located on the first floor of the IHFC building, InterHall spans across 80,000 square feet. Fifteen new exhibitors will be showcasing their designs throughout InterHall. You can read more about the exhibitors occupying InterHall here: http://www.imchighpointmarket.com/interhall-featuring-fifteen-new-exhibitors-at-high-point-market-in-october