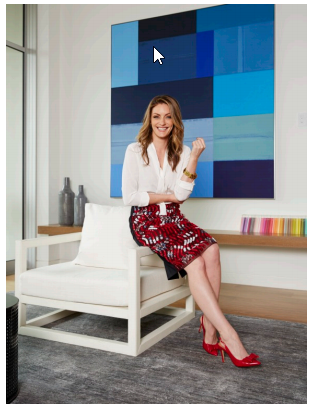 36 Year Old Interior Designer Hits$350 Million Dollar Mark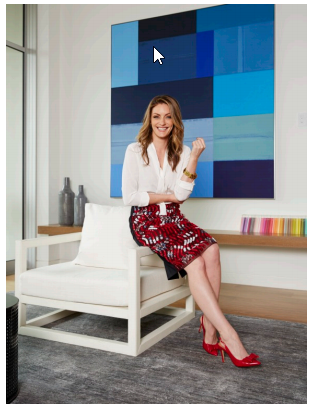 LOS ANGELES – September 10, 2015 – With over a hundred interior design jobs under her belt (including 30 in the multi-million dollar range), a busy real estate development company, and her own successful furniture brand, Los Angeles-based interior designer Erinn Valencich (aka Erinn V.) has gone from a relative unknown to a prominent and successful designer in just 11 short years and she's not even 40. Some of the more visible projects she currently has underway include a $10 million home for a tech guru, a $20 million private residence in Beverly Hills for a prominent fashion designer and a 5,000 square foot villa on the beach in Cabo, Mexico for a top New York City real estate investor. Combine these with the dozens of projects she does each year with more modest price tags starting at around $100 per square foot and clearly the first entry on her balance sheet, Erinn V. Design Group (EVDG), has led the way in generating her wealth. But it's only one of many successful businesses in her extensive portfolio. Designing for prominent public figures like Ashton Kutcher, Mila Kunis, Gordon Ramsay, and Hillary Clinton is one of Valencich's primary passions. Her desire to bring those designs to life exactly as she envisions them led to another business that she has put her heart and soul into: designing and manufacturing her own custom furniture collection. A childhood spent in her grandfather's woodshop on the family's Northern California farm gave her an understanding of, and appreciation for, fine craftsmanship that serves her well in this endeavor. She'll also tell you that hunting for bargains at flea markets with her mother played a role in developing her shrewd business sense.
With a $1 million dollar investment, the furniture line was originally specific to EVDG clients. Four years ago, the Erinn V. collection was launched in her own 5,000 square foot showroom on Los Angeles' posh Robertson Boulevard. Today, the 120-piece customizable furniture collection is available through interior designers at leading showrooms in Los Angeles, New York, Atlanta, Dallas, Las Vegas, and Miami. Offering more than 30 finishes the line is a designer's dream come true, complete with endless options and colors. The furniture collection is only one of the newest additions to Valencich's multi-million dollar empire. Real estate development has proven to be another very natural extension of her interior design business. Her extremely successful Los Angeles-based development company, Sloane Street Development + Design (www.sloanestreetdevelopment.com), excels at both ground-up projects and renovations. In 2012, Erinn V. Design Group and Sloane Street Development completed the 13,000 square foot, $24 million Sunset Plaza estate in collaboration with architect Hagy Belzberg. Located in the heart of the Sunset Strip, the home's wide, spacious drive easily accommodates 15 cars, with another five garage spaces. Its open glass wine cellar stores up to 800 bottles, and the standalone 725 square foot wellness center is an impressive athletic indulgence. Before the posh residence sold, it was rented for the filming of a Cadillac CTS commercial and quickly became an iconic property. Recently, Architectural Digest Mexico featured a complete spread of the estate.
The primarily U.S.-based Architectural Digest magazine and Valencich will host 400 Cadillac clients for the Driven by Design tour in Los Angeles in November.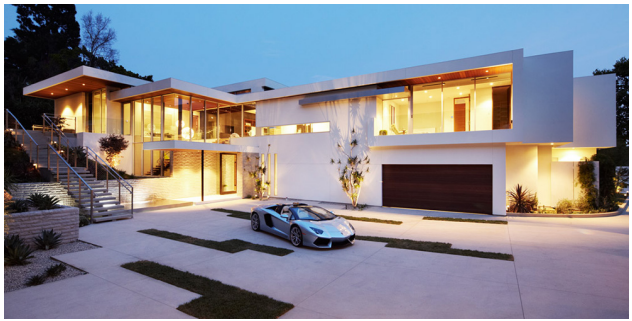 Following the Sunset Plaza project, EVDG tackled a 650-guest room hotel commission in Las Vegas for the CIM group. Called The Downtown Grand, it includes bars, restaurants, lobbies, a casino, and a pool area. With Valencich in charge, EVDG is currently working on a $2 million restaurant project for a Michelin-starred chef's restaurant in Los Angeles.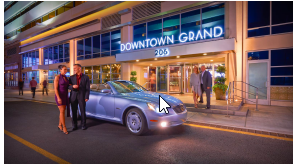 In addition to her design and development work, and in between furniture sketches, Valencich maintains a busy schedule as a host, design expert and guest on a wide range of TV shows such as E!, The View, and Entertainment Tonight. In 2013, she also appeared on NBC's American Dream Builders with Nate Berkus, Monica Pederson, and NFL Heisman trophy winner Eddie George. When the beautiful and vivacious Northern California native isn't at a project site or on a TV soundstage, she is also a prolific writer. Her work has been featured in publications like Elle Décor, In Style, Better Homes and Gardens, Redbook and USA Today. One of her newer roles is as the debut design director and curator at the Wynwood Lab, a "lifestyle laboratory" venue sponsored by Elle Décor in Miami's trendy Wynwood Arts District. Valencich is also licensing her designs to leading product manufacturers and playing brand ambassador for all of her favorite products.
For high-resolution photography, interviews, or brand partnerships please email or call – Christi Tasker: Christi@TaskerAgency.com -702-703-9047
About Erinn Valencich – (http://erinnv.com/about/ErinnValencich) is a Beverly Hills interior designer, lifestyle expert and television personality featured on shows such as "The View," "Extra," "Access Hollywood" and "Entertainment Tonight" along with hosting many HGTV specials. With a passion for effortless entertaining and an aesthetic that defines affordable luxury, Erinn was chosen for NBC's "American Dream Builders" with host Nate Berkus and judges Eddie George and Monica Pedersen. Through her interior design and real estate development firm, Erinn V Design Group, Valencich works with A-list celebrities such as Mila Kunis, Jaime Pressly, Gordon Ramsay, Scott Wolf and Ashton Kutcher. Recently in the hospitality design realm, Valencich completed The Downtown Grand, a 650-room hotel in Las Vegas.Erinn's talent as a leading designer and international real estate developer is showcased in top interior design and architecture magazines such as Architectural Digest, Elle Décor, Traditional Home, Town & Country, Woman's Day, Redbook, The Los Angeles Times, The Wall Street Journal and The Robb Report. Online Erinn can be seen as a trend expert and style source for Yahoo News, Zillow, Us Weekly, ABC News, PopSugar, DailyCandy, One Kings Lane, Houzz, Dering Hall, and Gilt, among others.
About the Erinn V. Collection – (http://www.ErinnV.com) As the granddaughter of a fine cabinetmaker and interior designer to Hollywood's A-List, Erinn Valencich found designing her own modern-classic furniture was imperative to creating unique spaces for her international clientele. Celebrating 10 years of quality craftsmanship in Los Angeles, Valencich introduced the first Erinn V. furniture collection to her clientele with over 120 functional and fabulous pieces, ranging from casegoods to fine upholstery, offering her brand of affordable luxury to everyone. Sales representation can be found internationally and throughout the U.S. as well. Elite manufacturers produce other Erinn V. licensed products for consumers worldwide. View the complete Erinn V. Collection Lookbook.