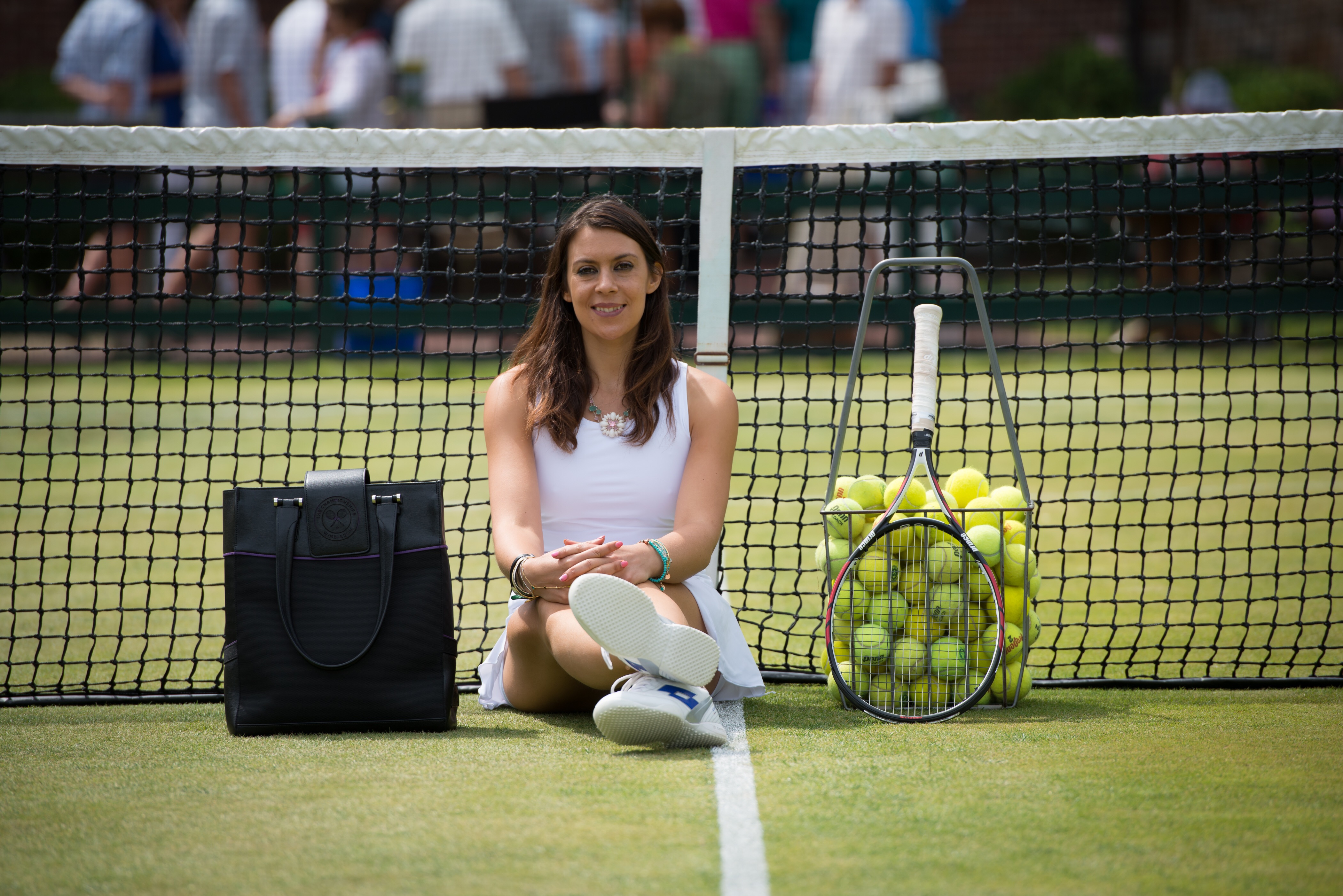 2015 Exclusive Wimbledon Tennis Bag: A Winner Among Champions
Celebrity tennis player champions worldwide are carrying the multi – purpose Cortiglia Exclusive 2015 Wimbledon tennis bag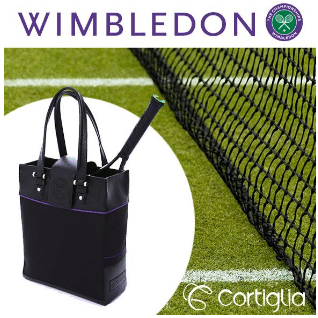 August 25, 2015:The Italian-made Wimbledon tennis bagwas created exclusivelyfor Wimbledon2015. With a special release to Wimbledon competitors, the black tote with official Wimbledon purple trim and stamped Wimbledon logo debuted in London during the championship tournament. Featuring sturdy construction and elegant details, the Wimbledon bag has enough space for two tennis racquets, balls, and other court necessities withsides that maintain their elegant profile even when the bag is contains racquets. Exterior pockets create an easily accessible slot for a cell phone and/or keys. The bag was designed by Jill LaCorte, founder and CEO of Cortiglia.
The Wimbledon bag is designed for a savvy players who require that it be function al and demand that it be stylish . "Coming back from Wimbledon,I have been using the bag for traveling as well as the court. I have been approached numerous times by people of fering compliments and asking, 'Where did you get that bag?' said LaCorte. " I am truly flattered when players like France's Marion Bartoli, 2013 Wimbledon Championship Ladies Singles Winner, purchase a Wimbledon bag and when fashion rebels like Bethanie Mattek – Sands are style – spotted carrying Cortiglia bags. "
The Wimbledon bag is manufactured exclusively by Cortiglia and available in limited quantities while supplies last through fine retail stores worldwide and online at Cortiglia.com for $450.00 USD.
For high – resolution photography, interviews, or more information please contact Christi Tasker 
at Christi@TaskerAgency.com or 702 – 703 – 9047.
About Wimbledon: 
Of ficially known as The Championships, Wimbledon, the event 
began in 1877 and is held at the All England Lawn Tennis & Croquet Club. The best of the best in the tennis world compete at Wimbledon, with 
Serena Williams claiming the Ladies Singles  title this year. While The Championships are about tennis, celebrity spottings and fashion often dominate the conversation .
About Jill LaCorte: 
After her second son was born, Jill started playing tennis to get back into shape and loved it. Just three weeks after the birth of her third son, she was back on the court and playing in her first tournament. Clearly, she was addicted. Now, five years la ter, Jill is a fiercely competitive league player and a sectional finalist in 2005. She honed her eye for design at the Fashion Institute of Design & Merchandising.
About Cortiglia:
A daily tennis habit turned into a fashion dilemma for Cortiglia founder Jill LaCorte. Carrying her racquets and gear in the standard fare, oversized, nylon or vinyl, logo-emblazoned tennis bags went against every aesthetic fiber in her body. She tried to repurpose other, more fashionable totes for tennis, but they just weren't designed for the job. After searching high and low for the perfect bag, Jill realized that if she wanted a beautiful, stylish bag -more of a purse made for tennis – she would have to design it herself. Thus, Cortiglia, LLC was born in 2008.