The Positively Negative collection uses smartphone technology creating two pieces of art in one
Miami, Florida – May 10th, 2016 – Manuel García has created a series of original artwork in which he envisions and executes vibrant abstract paintings that transform into completely different images when viewed using smartphone technology. The creative process – from building the canvas to applying the final drop of paint – is only the beginning of these works. The pieces at first look like psychedelic abstract paintings. However, when spectators view the pieces using their smartphones and alter their settings to "Invert Colors," they are surprised and delighted by what they see. That is when the experience of the Positively Negative collection begins.
The original series consists of six large-scale paintings that will be shown on May 14th from 7 to 10 p.m. at Wynwood Lab.
Manuel García is a Cuban artist from the city of Matanzas and first-prize winner of the "Roberto Diago – Evento Provicional de Artes Visuales" award. Born and raised in Cuba, García started to paint at age 14 and dreamed of coming to the U.S. to study. He believes one should never change simply for change's sake, but should always evolve until achieving the best version of oneself. "I read to improve myself and I think that going to college is the best investment," said García, who slept in his car when he arrived in the U.S. in order to pay for his studies with the money he was earning as a back-end restaurant helper.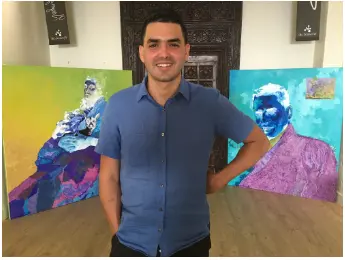 During the May 14th event, Wynwood Lab will announce Manuel Garcia as its first honorary artist and member. The general public can purchase tickets for this event. "The board of Wynwood Lab is excited for this event," said Boyd Tasker, co-founder of Wynwood Lab. "More than 60 percent of Miami's population is of Cuban descent. We couldn't think of a better way to celebrate the culture of this city than to have a Cuban artist as our first honorary member."
The attendees will enjoy an evening filled with exquisite Cuban food and drinks, traditional music like Boleros, Timbas y Rumbas, and original and limited edition works of art that will transform the venue into a Cuban paradise.
Prior to García's solo art showing, Wynwood Lab will be hosting Javier Gomez's Bvlgari and Fendi Casa collection of photography.
"Manuel García's art has the most innovative and detailed technique, and its digital translation is mind blowing," said Christi Tasker, Wynwood Lab co-founder. "When I first saw his pieces, I thought it was exceptional and uniquely defined contemporary artwork. When Manuel hovered his phone over the piece for the first time I was beyond joyful because I've never seen this smartphone and art innovation before and neither have the curators and other artists who have previewed the collection thus far."
"Manuel's work is truly groundbreaking," said Boyd Tasker. "Combining the ancient art of painting with the modern practice of having a smartphone always close at hand has created a whole new way to experience art."
Tickets for the event are available at: https://manuelgarcia.eventbrite.com
About Manuel García
Manuel Garcia is a Cuban-born artist who emigrated to the U.S. to pursue an education and ultimately a career in art. Initially living in his car to save money for college, he is now recognized as a talented painter and art innovator whose most recent works incorporate paintings viewed and altered by smartphone technology. Before leaving Cuba Manuel (aka. Manny) won the first-prize "Roberto Diago – Evento Provicional de Artes Visuales" award.
About Wynwood Lab – http://www.wynwoodlab.com
Wynwood Lab is a members-only luxury lifestyle collaboration space, gallery, and event venue. Located in Miami's Wynwood Arts District, the Lab brings together artists in all mediums – from fine art to music to the culinary arts – and companies looking to work with them to create new art-inspired products and promote existing product lines. Wynwood Lab is the brainchild of Boyd and Christi Tasker.
Boyd Tasker is CEO of Tasker International, LLC and former director of leasing for the Better Home Goods division of International Market Centers, a Las Vegas and High Point, NC-based commercial real estate investment group owned by Bain Capital LLC and Oaktree Capital Group LLC. In addition, he has extensive experience in currency trading and publishing.
Christi Tasker is CEO of PuTTin' OuT LLC, a successful digital media and marketing agency. She is also ringmaster of sister company, Tasker Agency, a traditional marketing firm focused on experiential marketing for luxury brands. Previously an award-winning interior designer and retailer, she is a respected international social media consultant, coach, author, and speaker. She has shared her expertise on NBC News and PR News Press, and is a regular contributor to several online social media and marketing platforms and other publications.